Northfielders for Justice in Palestine/Israel (NJP) is a local community group whose aim is to educate and inform Northfield and the surrounding area about the Palestine-Israeli conflict, and to advocate peace and justice for all parties in the conflict.  While all inhabitants of Palestine-Israel suffer from the conflict, NJP is particularly concerned with the plight of the Palestinians.
NJP believes that US citizens need to be more accurately and fully informed about the nature of the Israeli occupation and military control of Palestinian lands, the character of its "democracy," and its increasingly discriminatory social, political and legal systems.
Most important, Americans need to realize that Israel's treatment of the Palestinians is being subsidized by the US taxpayer, and that the aims and supporters of uncompromising right-wing Israeli zionism is playing an ever more intrusive and blatant role in American domestic and foreign policy.
NJP was started in 2007 by a group of Northfielders  drawn together by a common concern and personal knowledge of the Palestine/Israeli conflict.  Membership has now expanded to some dozen people. Since its founding NJP has established a rich and regular selection of activities (see Programs and Events.)
Members come to the work of NJP from different perspectives, including the religious, the secular, the political, or some combination thereof.  We appeal variously to matters of faith, ethics and morality, to considerations of human rights, and to codes of international law.  Almost all members of the group have visited Palestine/Israel, in one case as many as twenty times.
NJP is organized into a main core committee and into several standing and ad hoc subcommittees.  The core committee meets each month, usually on a Tuesday evening. Subcommittees meet when required.  The standing subcommittees address events and issues that are a part of NJP's regular calendar (see under Programs and Events). Ad hoc committees include those for visiting speakers and special events.  Individual members contribute their own particular skills to the work of the group.
---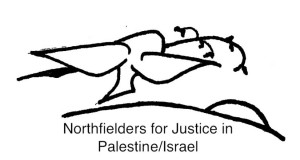 ---