Film series
Since 2009 NJP has offered a summer Film series. Each consists of three films on three consecutive Tuesday evening in the summer.  The programs have included  a mix of both feature and documentary movies
Nakba
May 15 is the day each year when the Nakba is recalled. Arabic for "catastrophe," the word refers to the 1948 mass exodus of Arabs, and the destruction of over four hundred Palestinain villages when the state of Israel was declared.   On or near the date, NJP holds a gathering in Northfield's Bridge Square to read out the names of the destroyed villages.
Speakers
Since 2007 NJP has sponsored or supported speakers and presentations by a range of visitors.  They include: Iyad Burnat, Craig and Cindy Corrie, Mads Gilbert, Miko Peled, Mazin Qumsiyeh, Mitri Raheb, Allison Weir and Grant Smith.
Special Events
In the past these have included a Palestinian dinner, two Palestinian Fair, and theatrical presentations.  For further details, see the Archive of Past Events.
If you would like to talk with any of our members, or arrange an NJP presentation for your community or your group, or be added to our email list for notification of current and future events, please contact us.
---
---
---
Archive of Past Events Sponsored or Supported by NJP
2018:
Non-violent Resistance: International Solidarity Movement, presentation at St. Olaf (4/11/18)
2017:
2016:
Nakba remembrance
Provided speaker to Northfield Public School
Summer film series
The Wanted 18 — http://www.wanted18.com/
"In 1987, the first popular movement in the West Bank is rising.  Residents want local alternatives to Israeli goods, including milk.  And so begins the strange story of 18 cows."
1913: Seeds of Conflict — http://1913seedsofconflict.com/
"Most observers consider the Balfor Declaration and Mandate period of the 1920s as the origin of today's Israeli-Palestinian conflict.  Breaking new ground, 1913:  Seeds of Conflict explores the divergent social forces growing in Palestine before World War I, when Arabs and Jews co-existed in harmony as Ottomans, each yearning for a land to call their own.
Two Blue Lines — http://twobluelinesdocumentary.com/
"Shot over a period of 25 Years, Two Blue Lines examines the human and political situation of Palestinian people fro the years prior to the creation of Israel to the present day.  By primarily featuring the narratives of Israelis whose position run counter to their country's official policy, the documentary provides a portrait of the ongoing conflict not often depicted in mainstream media."
Grant Smith Presentation at St. Olaf  "The Israel Lobby's Impact on America"
2015:
•     Awarded three Travel Scholarships
•     Nakba remembrance
•     Summer film series
•     Play performance: "When Grown Men Cry," NAG Theater
•     Presentation by Allison Weir
•     Provided speaker to Northfield Public School
2014:
•     Stephen and Arwa Bennet speak to NJP members
•     Mitri Raheb speaks at St John's
•     Cindy Corrie speaks at St Olaf
•     Nakba remembrance
•     Summer film series
•     International Day of Peace in Bridge Square
•     All-day Palestine Teach-In at Methodist church
For more information on the Teach In, see njpmn.teachin.wordpress.com.
•     Provided speakers to Middle East Peace Now, Northfield High school, Northfield Senior Center
2013:
•     NJP tables at a peace and Justice even held at Bethel church
•     Awarded two Palestinian Travel Scholarships
•     Ruth Hansen teaches Elder Collegium class "Who Are the Palestinians?"
•     Nakba demonstration in Bridge Square
•     Summer Film series
•     Hosts Brad Parker on the subject of "Children and the IDF/Prisons"
•     Presentation at St Olaf by Miko Peled
2012:
•     William Parry talks about his book Against the Wall at St Olaf
•     Dr Mads Gilbert gives an NJP sponsored presentation, "Eyes in Gaza," at St Olaf
•     Mitri Raheb and Dance Troupe
•     First Ruth Hansen Travel Scholarship announced
•     Mazin Qumsiyeh presents at a fund-raising event for the NJP Ruth Hansen Palestinian Travel Scholarship
•     Palestinian Fair; performance of  "Seven Jewish Children"
•     Iyad Burnat, maker of Four Broken Cameras, gives a presentation at St Olaf
2011:
•     Summer Film series
•     Bridge Square vigil in support of the Gaza Flotilla
•     Tabling at the St John's Church Justice Fair
•     Gala Dinner, with the donation raised sent to Bright Stars of Bethlehem
2010:
•     Demonstration on Bridge Square to protest the Israeli attack on the Free Gaza Flotilla
•     Summer Film series
•     Sponsor of the Sabeel Conference held at Luther Seminary, St Paul
•     A Palestine Fair held at the UCC Church
•     An event to support the Free Bethlehem Campaign
2009:
•     Individual NJP members involved in the Minnesota Break the Bonds campaign (Boycott
•     Divestment Sanctions)
•     Five week lecture series at the Methodist Church entitled "Towards an Understanding of the Palestine/Israel Conflict"
•     Tabling at Just Foods to promote Palestinian Fair Trade
•     Summer Film Series
•     NJP becomes a member of the US Campaign to End the Occupation
•     A display table to mark the International Day of Peace at St John's Church
•     Subscription to the Washington Report on Middle East Affairs taken out by NJP for the Northfield Public Library
2008:
•     Throughout the year a Palestine photo exhibit was mounted at different venues
•     Supported an Elder Collegium class on War and Peace in a Land Called Holy taught by Chuck Luz
2007:
•     Summer: Showing of "The West Bank Story," with a Palestinian and a Jewish respondent
•     November: Palestinian Fair, UCC Church
---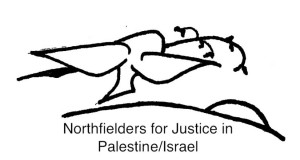 ---