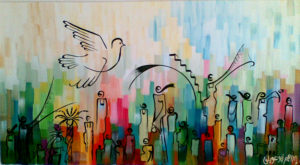 Ramadan Day in Gaza
used with permission from the artist, Ibrahim Abu Ewaleh
"Ramadan Day in Gaza"  by Ibrahim Abu Ewaleh is the November entry in the Colors of Palestine calendar published by Resistance Art (resistanceart.com).  This year's calendar remembers Mahmoud Darwish.
Ibrahim Abu-Ewaleh was born in 1974.  He obtained his Fine Arts degree from Hilwan University (Egypt) in 1996.   He is a member of the Palestine Artists' League and a founding member of the Gaza Artist forum.
All funds from the sale of the calendar will benefit the Young Artist Forum in Ramallah.   Young Artists Forum was established to contribute to community development in The West Bank through employing the large potentialities of arts for improving the cultural and intellectual situation of children and youth in Palestine and develop their individual and community personality.  The YAF runs evening fine arts classes for children but not all children can afford the fees.   The proceeds from calendar sales will make it easier for some of the children to attend the classes.