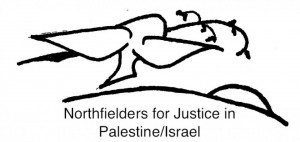 Al Nakba
May 12, 2020
Dear Supporters of NJP:
As many of you will recall, at this time of the year we normally hold a ceremony in Northfield's Bridge Square remembering the Nakba, that time in 1948 when some 750,000 Palestinians were expelled from their ancestral homes and villages in what became the state of Israel.
The Nakba, the Arabic word for "catastrophe," continues today in the ongoing exile and subjugation of the Palestinians.  Given the current Covid 19 pandemic, we shall not this year be in Bridge Square.  However, we would like to share with you a video we had made of our Bridge Square event three years ago in 2017. 
https://www.youtube.com/watch?v=XZVFLHxHnFo
Since then, the situation of the Palestinians in Gaza, the West Bank, and the region's refugee camps has only got worse, to which is now added the additional burden of the corona virus pandemic.
With your help, we shall continue our advocacy and work on behalf of peace and justice for all in Palestine/Israel.
Northfielders for Justice in Palestine/Israel   
P. O. Box 118
Northfield, MN 55057
email: info@njpmn.org
For those wanting to know more about the Nakba — 1948:  Creation & Catastrophe  —  currently streaming on Amazon Prime.
"Through riveting and moving personal recollections of both Palestinians and Israelis, 1946:  Creation & Catastrophe reveals the shocking events of the most pivotal 7year in the most controversial conflict in the world ….
For more perspectives on the movie:
https://www.middleeasteye.net/opinion/creation-and-catastrophe-survivors-review-1948
https://mondoweiss.net/2019/02/last-eyewitnesses-nakba/
For those wanting to "go somewhere and do something":
Al Nakba Car Rally and Parade
hosted by Anti-war Committee and American Muslims for Palestine–MN
Friday, May 15
6:00pm – 7:00pm
43rd and Central Ave NE, Columbia Heights, MN
https://www.facebook.com/events/252169372647362/
May 15, 1948 marks Al Nakba, Arabic for The Catastrophe – the day Israel was declared an independent state in historic Palestine. During the 1948 war, at least 750,000 Palestinians were ruthlessly attacked, massacred, and driven from their homes by Zionist terror groups. In violation of international law, these displaced people have never been allowed to return. The year 2020 marks 72 years of U.S.-backed Israeli occupation and apartheid.
During the current COVID-19 pandemic, the Israeli government's callous and deadly disregard for Palestinian lives is reaching new heights as it continues to deny basic medical safety equipment from getting to Palestinian hospitals, which were already dangerously short of basic necessities like soap. And the Israeli government continues to shut off power to Gaza for huge parts of the day.
This is a critical moment to fight for Palestine & Palestinian rights, and we need to keep up the pressure to demand an end to U.S. aid to Israel! We have the opportunity to raise the demand of Free Palestine. Join us!
We mark Al-Nakba every year but this year we will protest under pandemic conditions and will therefore do it differently. We will gather safely in our vehicles, following social distancing guidelines, to mark this important day and shed light on Israeli apartheid. Please bring your own signs and Palestinian flags to decorate your cars. We will gather at 43rd and Central and then do a parade up and down Central Avenue to show our solidarity and pride in Palestine.
---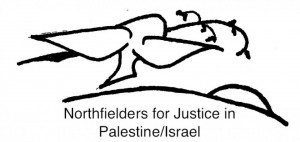 NJP Urges
Medical Support for Palestine
In  these testing and distressing days, there is little time to find the energy to do anything other than look after ourselves, our families and friends, while doing what we can to support the national effort in overcoming the present pandemic. If you are one of those in the front line of the national defense, in whatever capacity, we owe you our deepest gratitude and admiration. 
We write to you now because you have been a supporter of Northfielders for Justice in Palestine/Israel, and for this we want to thank you most sincerely. 
We have put scheduled NJP activities—including our annual Nakba memorial in Bridge Square, and our planned film series at Bethel Church—on hold.  We shall engage again in public events when it is judged safe to do so.
Like us we are sure you have been following the global scale of the pandemic.  And like us you may have wondered how things stand with the Palestinians in the West Bank, in Gaza, and in the various refugee camps in the region.   The answer is that they stand in an urgent and critical situation.  To military occupation, blockade, or isolation, they now face the additional deadly siege of Covid 19, with few resources to overcome it.
Those of us in NJP believe that what is most urgently needed by the Palestinians at this dire moment is medical relief and equipment.   If you agree, and would like to offer this kind of help, then we urge you to consider donating to one or more of the following organizations: 
We are all being stretched to the limits of our endurance by the present circumstances.  By the calculus of human misery there are so many in need of our support. At this moment we are thinking of the Palestinians.  We hope you may do so as well.
With our thanks for your consideration, and good wishes for you continuing health and safety.
Northfielders for Justice in Palestine/Israel   
P. O. Box 118
Northfield, MN 55057
email: info@njpmn.org


---
 Formed in 2007, Northfielders for Justice in Palestine/Israel is an ecumenical group of community members who organize local events to educate and advocate for justice and peace in Palestine/Israel.
For more information about NJP, write to info@njpmn.org.