All events are free and open to the public.
Formed in 2007, Northfielders for Justice in Palestine/Israel is an ecumenical group of community members who organize local events to educate and advocate for justice and peace in Palestine/Israel.
For more information about NJP, write to info@njpmn.org.
Tuesday, October 1
NJP Book Group led by Darlene Hand

St John's Church
7:00pm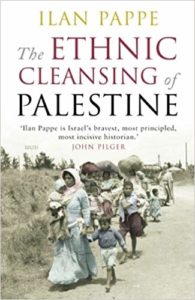 The discussion will be informed by current events and the book: The Ethnic Cleansing of Palestine by Ilan Pappe. You do not need to have read the book to be part of the discussion.
From Amazon: "Renowned Israeli historian, Ilan Pappe's groundbreaking book revisits the formation of the State of Israel. Between 1947 and 1949, over 400 Palestinian villages were deliberately destroyed, civilians were massacred and around a million men, women, and children were epedlled from their homes.
Denied for almost six decades, had it happened today it could only have been called "ethnic cleansing". Decisively debunking the myth that the
Palestinian population left of their own accord in the course of the war, Ilan Papper offers impressive archival evidence to demonstrate that, from its very inception, a central plan in Israel's founding ideology was the forcible removal of the indigenous population. Indispensable for anyone interested in teh current crisis in the Middle East."
Thursday, October 10
Mark Brown:  Human Rights in Palestine: Obstacles & Opportunities
St John's Church
7:00pm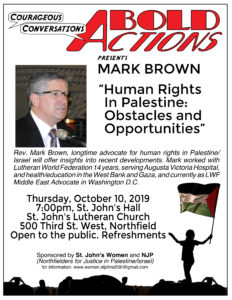 This event is part of the Courageous Conversations: Bold
Actions series of St. John's Women (https://stjohnsnorthfield.org/congregational-life/women/). NJP and St. John's women are co-sponsors of this event.
Rev. Mark Brown, a long-time advocate for human rights in Palestine will offer insights into recent developments. After 14 years in Jerusalem as the Lutheran World Federation representative in Jerusalem, he now serves as Senior Advisor for Advocacy and Fundraising for Middle East / Jerusalem for LWF World Service.
The LWF has a long history of service in Jerusalem and the West Bankwith a mission to seve the poor and oppressed.. Rev. Brown oversaw LWF's health and educational programs. At the heart of his ministry was his work with Augusta Victoria Hospital.
Rev. Brown's interest in the Middle East began while on the Term in the Middle East in the fall of 1976 while a student at St. Olaf. In 2012, he received an Alumni Achievement Award from St. Olaf.