———-     Save the Date    ———-
Palestinians:  Past, Present & Future
Saturday, November 3, 2018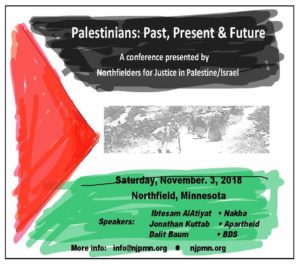 In a time when the circumstances of the Palestinian people become more insecure each day, Northfielders for Justice in Palestine/Israel presents "Palestinians: Past, Present and Future." The conference is 9:30 a.m.-3:30 p.m., Nov. 3, 2018, at St. John's Lutheran Church, 500 3rd St W., Northfield.
Addressing the past through discussing the Nakba, or catastrophe, is Dr. Ibtesam Al Atiyat. Al Atiyat is an Associate Professor of Sociology and Anthropology at St. Olaf College in Northfield. She is also a refugee of the 1948 Nakba, when Zionist forces expelled her mother from her native village in Palestine and into Jordan, where Al Atiyat was born and raised.
Jonathan Kuttab, a human rights lawyer in Israel-Palestine, will address the present Palestinian reality of apartheid. Kuttab will examine the legal definition of apartheid under international law and how it impacts Palestinians in the West Bank. Kuttab's family fled Palestine after the Six Day War in 1967.
Dalit Baum, director of the Economic Activism Program of the American Friends Service Committee, will speak to the future for Palestinians through the lens of BDS — boycott, divestment and sanction. Baum is an Israeli Jew and IDF reservist who has publicly refused to be recalled for service.
Registration, which includes lunch, is $40; $10 for students. Scholarships are available. Tickets are available at https://www.brownpapertickets.com/event/3611307. For more information, write to info@njpmn.org.
———-     Registration Now Open     ———-
Online:          https://palestinianspastpresentandfuture.brownpapertickets.com/
Snail Mail:     by using this registration form — click here